It is the last market of the year so come to the Hollywood Farmers Market this Saturday 9:00 a.m. to 1:00 p.m. Pick up something special for your Thanksgiving feast. Stop by Waltz Family Farm tent for farm fresh local meats. Blue Berwyn Farm will have the last of the season's carrots, greens and more. Check out their beautiful dried flower bouquets for your Thanksgiving centerpieces. They will also have a selection of apples and apple cider from McCleaf's Orchard. Make sure to stock up on honey from Honey Glow. Looking for holiday gifts? Be sure to see our local craft vendors for an amazing selection of handcrafted items. See you on Saturday!
After far too long an absence Double Sharp will be back tomorrow morning at the Hollywood Farmers Market. Please come early and welcome back Eric and John! Double Sharp playing all your favorite tunes and songs from bluegrass, traditional Americana, to Bach.
We will have a 
Holiday Winter Market on Saturday, December 16th from 9am until 1pm.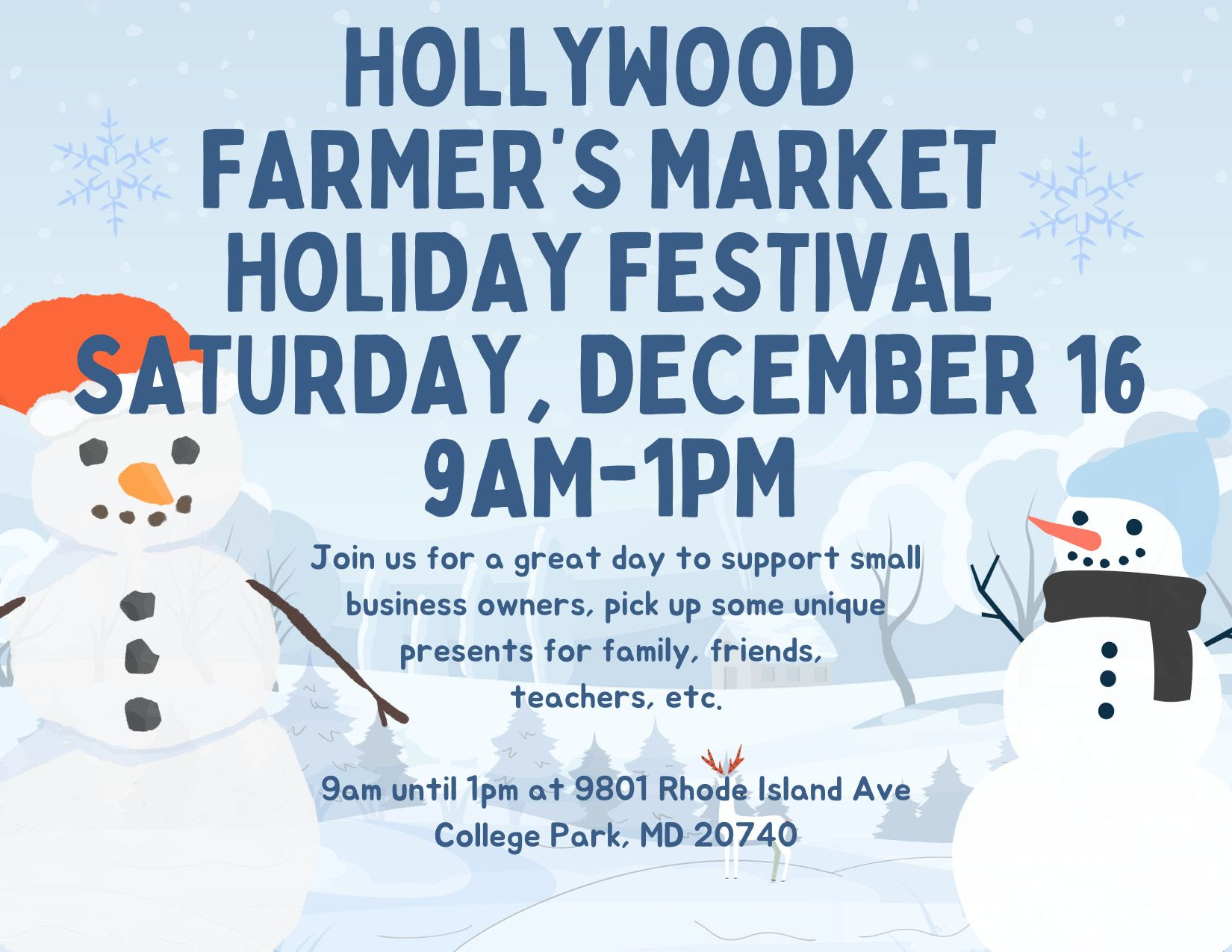 Did you know we accept Supplemental Nutrition Assistance Program (SNAP) benefits so customers can purchase fresh produce and locally made products at our market? To use SNAP benefits, customers can swipe their EBT cards at our Maryland Market Money table. We will charge the card for any amount requested in exchange for tokens that can be spent with eligible vendors.  Through the Maryland Market Money program, the market will also match up to $30 in SNAP benefits spent at the market – so a $10 charge on a customer's EBT card will give them $20 to spend!  Many of our vendors also accept Farmers Market Nutrition Program (FMNP) checks. Checks can be used to buy fresh fruits, vegetables, cut herbs, and honey. These checks are spent directly with vendors who are registered to accept the checks as payment, and then those vendors will write the customer a receipt. If the customer brings the receipt to the market table, we will match up to $10 in FMNP spending with additional Maryland Market Money tokens. Bringing a $10 FMNP check to the market can allow a customer to spend $20!The College Park Community Food Bank and Hollywood farmers market are partnering on a canned food drive. Bring your unexpired canned goods to the market and leave them at the market management tent. Look for the tall white bag with the College Park Community Food Bank logo on it.
Our vendors this week include:
Honey Glow
Montoya Farm
Blue Berwyn Farm
Waltz Family Farm
Pupuseria & Taqueria El Solectto
Shmidt Spirits
Thai Amity
SlingClay
Glow Suite
Door-by-Door Wreaths